Jewelry, Vases, Bowls, Candle Holders, Rolling Pins (French & handled)
Wine Bottle Stoppers, Xmas Tree Ornaments & More
and
Flexible Dulcimer Hammers

Also Featuring Highly Popular
Wood Sample Kits
For Wood Identification
"The tree that moves some to tears of joy"
The artist of Firewood Treasures, Rick Smith, is dedicated to revealing the beauty that Nature has hidden in the wood of her trees. Each unique object comes from a specific tree whose history accompanies the piece. In the tradition of the Colonial woodsmith, these works of art are finished with multiple, hand-rubbed coats of tung oil, never filled or stained, to preserve the natural color, character, and history of the wood. Each piece is signed by the artist.

Each tree is a specific creation of God, to be cherished and remembered. It is with this thought in mind that Rick Smith works to fashion each work of art, be it standard or miniature size. The full character of the wood will mature over the years; like wisdom, it comes gradually with time.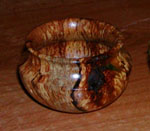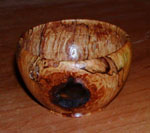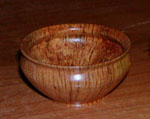 Use the links panel at the left to navigate the site and find a variety of hand-made wood creations in both miniature (doll house) and full size versions; candle holders, rolling pins, vases, bowls, and more. Many of these items are made from authentic, certified wood from Maryland's Historic Wye Oak.
See our popular Domestic and (new) Tropical Wood Sample Kits.
NOTE: While our Website may appear old, it still works fine!