Rick Smith Hammers
Review by Bill Troxler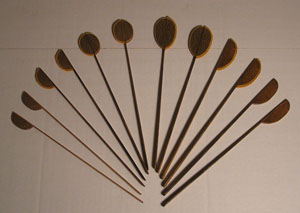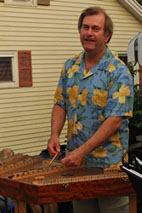 Few decisions are more important or more personal to a hammer dulcimer player than the selection of hammers. The right hammer makes the dulcimer more fun to play and produces sound qualities that can be memorable. I have spent decades in the quest for hammers that fit my playing style and bring out the best in my instrument. This long hunt ended with my discovery of Rick Smith's custom made hammers. Rick has created a hammer design that presents the best qualities of weight, flexibility, balance, responsiveness and sound quality. All this benefit arrives in a beautifully wrought, custom made product at a remarkably competitive price.

Rick has replaced the usual maple handles found on flexible dulcimer hammers with a choice of spalted English walnut, hickory or cherry. He also widened the standard size grip a little. My preferred shaft wood is spalted English walnut. The combination of this wood and slightly wider than usual grip produces an extremely responsive hammer. The result is a hammer that is easily controlled, does not demand excessive effort from the player and works exceeding well in managing dynamics. The hammer hits the sweet spot between being so flexible it cannot be adequately controlled and so stiff it cannot be expressive.

Several choices are available for the wood used in the hammer heads. My preference is dogwood. This heavier wood allows the hammer to do some of the work of playing without being so weighty that it bogs down a performance and saps a player's energy. Dogwood is also a very hard wood that will hold up against the constant chipping that playing causes on a hammer surface.

I much prefer a hammer with leather facing to enhance the sound of the hammer strike. When I play fiddle tunes I look for a hard leather facing that will convey a bright, clear sound while it protects the hammer surface. When I play airs, laments or ballads I want a soft leather facing that will covey a warm, mellow timbre and allow me to modulate the dynamics of a performance. Rick offers leathers that range from hard facings to cushy surfaces. My favorite for expressiveness is the elk hide with the fuzzy side out. This surface produces a warm sound quality that is extremely responsive to playing dynamics.

With a spalted English walnut handle, dogwood head and elk leather facing, a Rick Smith hammer weighs in at about 4.5 grams. This weight seems about ideal to ensure the hammer assists in the playing and gives good feedback to the player. These hammers feel just right.

Rick also offers double sided hammers that allow a quick transition from hard surface to soft surface during playing. He uses lighter weight wood in the head to maintain the same balance and responsiveness as the single sided hammers.

My long hammer quest is over. Rick Smith dulcimer hammers are my standard now. I know of no other dulcimer hammers currently available in the market that equal the high caliber of workmanship, playing qualities and price found in Rick Smith hammers.
- Bill Troxler
www.billtroxler.com